Southern Hot Water Cornbread
This good old fashioned Southern Hot Water Cornbread is the easiest recipe I've found. A lot of recipes call for baking powder but this one is just corn meal, salt, sugar if you like it, and boiling water.
How to make hot water cornbread, Crunchy on the outside and soft on the inside? Follow Hot Water Cornbread Recipe, served with a bowl of peas or beans this corn bread makes for some fine eaten'!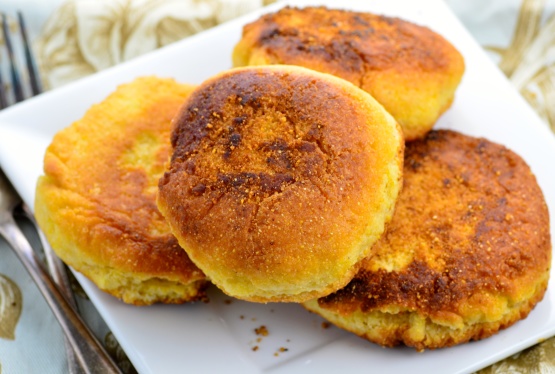 Ingredients
Cormeal ( yellow or white, I prefer yellow)
Pinch of salt
Teaspoon of sugar or splenda ( more or less depending on you)
water shopping list
I like to add onion ( dehydrated is fine)
How to make it
Use equal amounts of cornmeal and water, I am basing this on 2 cups of each. 2 cups = about 6-8 small patties.
Mix sugar, onion and salt into dry cornmeal.
Bring water to a brisk boil.
Stir the water into the meal mixing thoroughly.
Dipping your hands into COLD water form the batter into small loaves or patties.
Place gently into HOT oil and fry until golden brown. It cooks very fast.
Serve with Honey Butter or plain Butter.
This is an awesome change of pace from regular cornbread. Be creative and ENJOY Hot Water Cornbread Recipe. The key is to use HOT water and HOT oil.
Southern Hot Water Cornbread
Ingredients
2 cups white cornmeal
1/4 teaspoon baking powder
1 1/4 teaspoons salt
1 teaspoon sugar
1/4 cup half-and-half
1 tablespoon vegetable oil
3/4 to 1 1/4 cups boiling water
Vegetable oil
Softened butter
Preparation
It is similar to hot water cornbread recipe, combine cornmeal and next 3 ingredients in a bowl; stir in half-and-half and 1 tablespoon oil. Gradually add boiling water, stirring until batter is the consistency of grits.
Pour oil to a depth of 1/2 inch into a large heavy skillet; place over medium-high heat. Scoop batter into a 1/4-cup measure; drop into hot oil, and fry, in batches, 3 minutes on each side or until golden. Drain well on paper towels. Serve immediately with softened butter.
Note: Stone ground (coarsely ground) cornmeal requires more liquid.
Add Varieties
Country Ham Hot Water Cornbread: Stir in 1 to 2 cups finely chopped country ham after adding boiling water.
Bacon-Cheddar Hot Water Cornbread: Stir in 8 slices cooked and crumbled bacon, 1 cup shredded sharp Cheddar cheese, and 4 minced green onions after adding boiling water.
Southwestern Hot-Water Cornbread: Stir in 1 seeded and minced jalapeño pepper; 1 cup Mexican cheese blend; 1 cup frozen whole kernel corn, thawed; and 1/4 cup minced fresh cilantro after adding boiling water.
Baked Hot-Water Cornbread: Omit skillet procedure. Pour 1/3 cup vegetable oil into a 15- x 10-inch jellyroll pan, spreading to edges. Drop batter as directed onto pan. Bake at 475° for 12 to 15 minutes. Turn cakes, and bake 5 more minutes or until golden brown.
Follow and Share  Corn Futures News